Hypnotherapy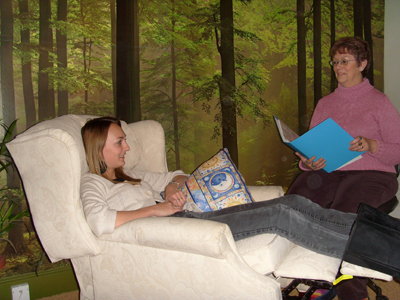 As I often pick up information about past lives when giving psychic readings I have taken it one step further and in a very relaxed situation I can take you back  to explore a past life. I specialize in past life regression, however if you have a fear or phobia these also can be treated.
In the fast paced lives we lead hypnotherapy can help to relax and build up the confidence to become stronger and more balanced in our daily lives.
These things and many more can be dealt with through hypnosis.
Testimonials
Excerpts from thankyou letters received recently
'Thankyou for helping me prepare for the birth of my little girl. The birth itself went well and I did it on gas and air alone, with no stitches! The midwife was amazed by how relaxed I was –so the hypnotherapy obviously worked!' Michelle -Portsmouth
'I thought I would let you know how successful your wonderful tape has been. I have lost two stones! Just as well as I am getting married in six weeks. Your tape is so soothing and I love listening to it. Thanks again'. Ruth - Portsmouth
The cost for your first session with consultation is £40, all subsequent sessions cost £30 each.
Or you can book this type of appointment!
A relaxing hypnotherapy session to remove stress followed by psychic & spiritual Healing to rebalance the energy in body & mind. Duration approximately 1 hour 15 minutes. Cost £35.00
To book an appointment ring me on 023 9269 31 69, or if you can't get me on that number text 07989-534673 and I'll get back to you, for further enquiries e-mail me on enquiries@pamelaashenden.co.uk